FOREVER BULLETPROOF ~ June 2020
We had the opportunity to collaborate with 6 other fanbases to create an archive documentary to celebrate #7YearsWithBTS
Thank you to US BTS ARMY, BTS ARMY League, ARMY Magazine, BTS ARMY Documentary, BTS Billboard, and Research BTS for all of your hard work!
---
So That I Love You Birthday Event ~ Sep 2019
We took the leap and decided to put together a cup sleeve event to celebrate RM and Jungkook's birthdays. We were nervous that we wouldn't get a good turnout, but NOLA ARMY showed up! Thanks to Sharetea New Orleans for hosting our event~ We hope to have more events like this in the future!
This slideshow requires JavaScript.
---
Speak Yourself Tour Snapchat Geofilter Project ~ May 2019
Together with The Dancing Tiger, we raised enough money to have custom Snapchat Geofilters for all dates of the US leg of the Speak Yourself Tour!
---
BTSxBBMAs ~ May 2019
Last BBMAs was so stressful, we didn't think we'd be coming back for more, but we did it!  Huge thank you BTSVegas_ for graciously agreeing to help us!
This year we distributed Boy With Luv Fanchant Guides in support of BTS' return to the BBMAs and their performance with Halsey. Many ARMYs expressed the idea of including Halsey in the fanchants, so we made a guide based on Twitter user sunmiandsuga's video.
In addition to distributing fanchant guides, we also gave away some of our fanmade Speak Yourself Tour Merch.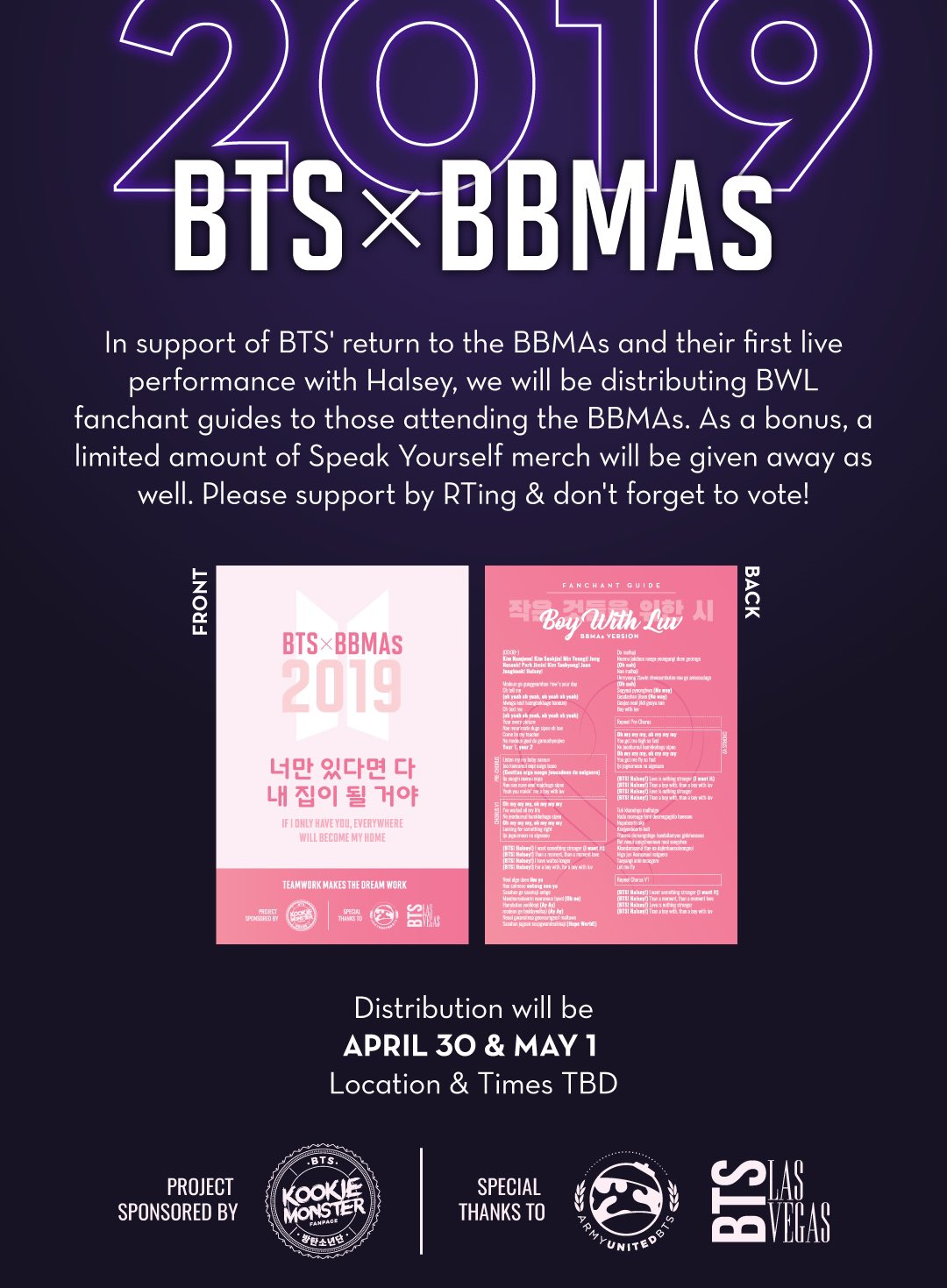 ---
Speak Yourself Tour Kits ~ Spring 2019
Seems just like yesterday we were finishing up our LY tour project, and here we are with another tour and another project. We went the unconventional route again, and came up with tour kits for our lovely ARMY <3
This project will benefit the following organizations:
Hope Bridge Disaster Relief Association
Islamic Relief USA
Together We Rise
---
Burn The Stage Donation Drive ~ Fall 2018
We expanded our project and were able to collect over 50 cans for the Second Harvest Food Bank of Greater New Orleans and Acadiana, $250 for the Second Harvest Food Bank of Metrolina, and $372 for the California Community Foundation Wildfire Relief Fund
---
BTS World Tour: Love Yourself ~ Newark Day 2
We were graciously asked to design the banner for Newark Day 2. Not gonna lie, we definitely shed some tears when this picture was posted.
---
LY Tour Project ~ Summer/Fall 2018
Collaboration with: TheDancingTiger
Thanks to ARMY, we were able to raise over $1000 for Project Semicolon, a nonprofit organization dedicated to the prevention of suicide and raising mental health awareness. We were also able to raise over $500 for the Foundation for the Carolinas, to support their relief efforts in response to Hurricane Florence.
---
RM's Birthday Project ~ September 2018
Since RM's birthday fell on a concert day, we thought it would be perfect to create a custom Snapchat Geofilter to be used at the concert to celebrate our leader's special day. It turned out SO CUTE. Thank you to all the ARMY who supported this project for RM <3
---
BTSxBBMAs ~ May 2018
Collaboration with: US BTS ARMY, Army United BTS and Bangtan Tumblr
---
Fanchant Project for BTSxAMAs ~ November 2017
Collaboration with: US BTS ARMY, Army United BTS and Bangtan Tumblr
---
Project Love BTS ~ Fall 2017
Fundraiser that raised $900 to help those affected by Hurricanes Harvey, Irma and Maria
---
The Wings Tour 2017 BTS Live Trilogy Episode III ~ Winter/Spring 2017
Take Me to the Sky Banner Project
Collaboration with: Bangbangtan0613 and ArmyUnitedBTS